Thread Rolls Made Per Order
Please Call or E-mail Us For Price and Delivery.
WHEN ORDERING OR REQUESTING QUOTATION ON THREAD ROLLS THE FOLLOWING INFORMATION SHOULD BE SUPPLIED.
1. TYPE OF ROLL.
A. C-1, C-2, F1-44 ETC.
B. WORKING FACE OR HUB DIMENSION WHEN APPLICABLE.
C. DIE PRINTS WHEN POSSIBLE.
2. ATTACHMENT OR MACHINE SIZE AND TYPE
3. PART DETAILS.
A. THREAD SIZE.
B. LENGTH OF THREAD.
C. POSITION AND SIZE OF SHOULDER ON PART IF APPLICABLE.
PRICES APPLY TO ALL STANDARD THREAD FORMS AND D-2 MATERIAL ALL THREAD ROLLS MADE TO ORDER. DELIVERY: 2-4 WEEKS NORMALLY.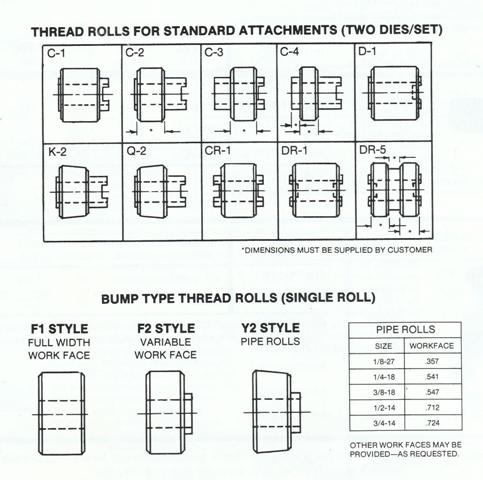 THREAD ROLLS ALSO AVAILABLE FOR THREE DIE MACHINES AND CAN BE MADE FOR A WIDE VARIETY OF SPECIALTY MACHINES.