HEAVY-DUTY SYNCHRONIZED
ROLLING HEADS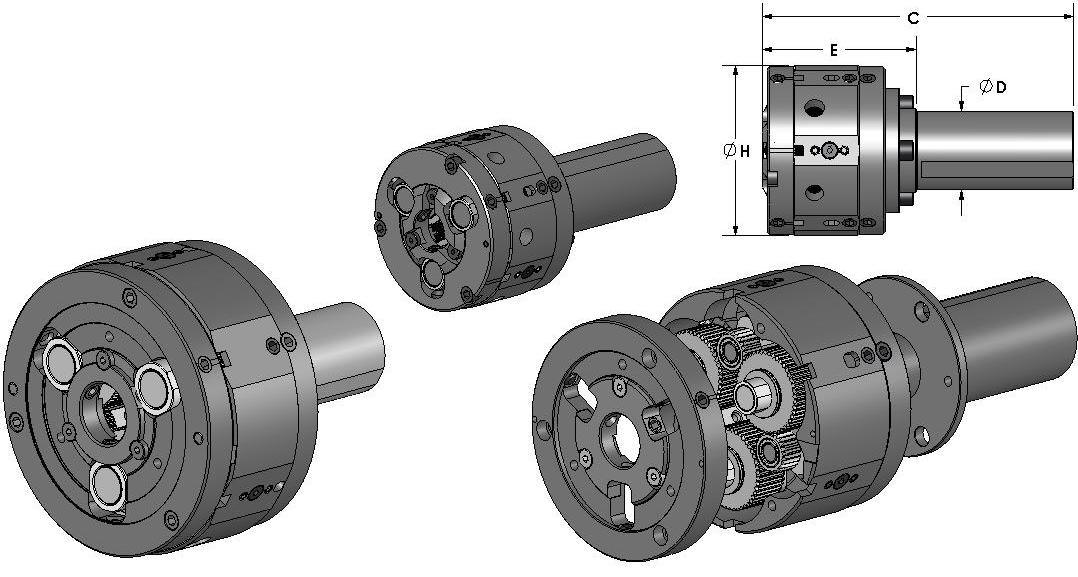 The heads below can use either a center gear, or three gears around the dies (as shown), leaving the center open. The dies are pre-set by special replaceable bushings in the center of the head (front and back). The dies (and external gears, if used) are individually adjustable, within the range limited by the pre-set bushings. The pre-set bushings reduce change-over time when setting up to roll a different part. This design is extremely rigid, and capable of rolling long and coarse parts. Carbide pins and hex wrenches are includes. Knurls and synchronizing gears are not included, and may need to be special ordered. Allow time for engineering and manufacturing.
PLEASE CALL OUR KNURL HOLDER DIVISION (STAFFORD SPECIAL TOOLS) FOR PRICE & DELIVERY.
1-800-642-2024 (TOLL FREE) 508-755-5302 (LOCAL) 508-755-4522 (FAX)
TOOL #
KNURL
C
D
E
H
WORK CAP.
PRICE
OR 125J12

PH

6.0
.750
3.0
2.75
.16 - .6
$1,300
OR 125J16
1.00
OR 125J20
1.25
OR 150G12

PH

6.0
.750
3.0
3.25
.2 - 1.0
$1,500
OR 150G16
1.00
OR 150G20
1.25
OR 175G20
PH
6.0
1.25
3.0
3.75
.2 - 1.0
$1700
OR 175G24
1.50
OR 200G20
PH
6.0
1.25
3.0
4.25
.2 - 1.0
$1900
OR 200G24
1.50
For more information on rolling heads contact rich@staffordspecialtools.com, and put "Synchronized Rolling Head" in the subject line.